Hello all!
So today I have a mani that I did last week. I actually had some time on my hands so I decided to play with some of the Fimo canes a friend from work gave me. I will need a lot more practice cutting the canes to the proper thickness. lol. My mani came out super chunky and the flowers didn't even last five hours! But I also just stuck them on with seche vite top coat. After a little research I found that nail glue is a more approprate adhesive.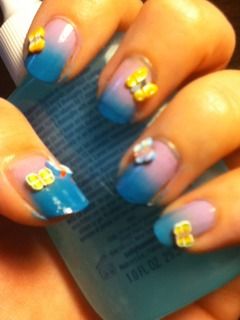 For the gradient I used Sinful Colors Savage and Sally Hansen Xtreme Wear Lacey Lilac. I just dabbed some of both onto a piece of tin foil and then used a clean triange makeup sponge to sponge them onto the nail. Please forgive the lack of clean-up. I was headed into the shower after and planned to use the hot water to get most of the excess off. I usually use a small angled make-up brush with nail polish remover on it.
I promise to get better at clean up so that the pics I post ook better.
Today though, my nails are still naked and -- just throwing this out there... I hate packing. :(
See you soon!
sweetergrrrl