Hello Readers,
Sorry I have taken such a long vacation from the blog. The holidays from Halloween on have just been insane. But, my world is getting back on track and my work schedule should be getting more regular, so the blogging shall (hopefully) be getting more regular.
I hope everyone had a safe and happy holiday season. I was able to go home to visit my parents and had a wonderful time. Work is going well and I currently have around 10 dog training classes going on so I am up to my neck in puppies, teaching and smelling like dog treats. No necessacarily a bad thing by any means, but it is exhausting.
But I have been (trying) to keep up with my nails and I will be back posting my manis as the time goes on. But today I have a mani that came into being thanks to my Grandma.
I had a birthday a week or so ago and she mailed me a set of Migi Nail Art Pens. Now, these things are amazing so far. Check out their website
here.
They offer a "free" refill programs that just requires you to pay $3.99 for shipping/handling and register your set. Not too shabby if you ask me. :)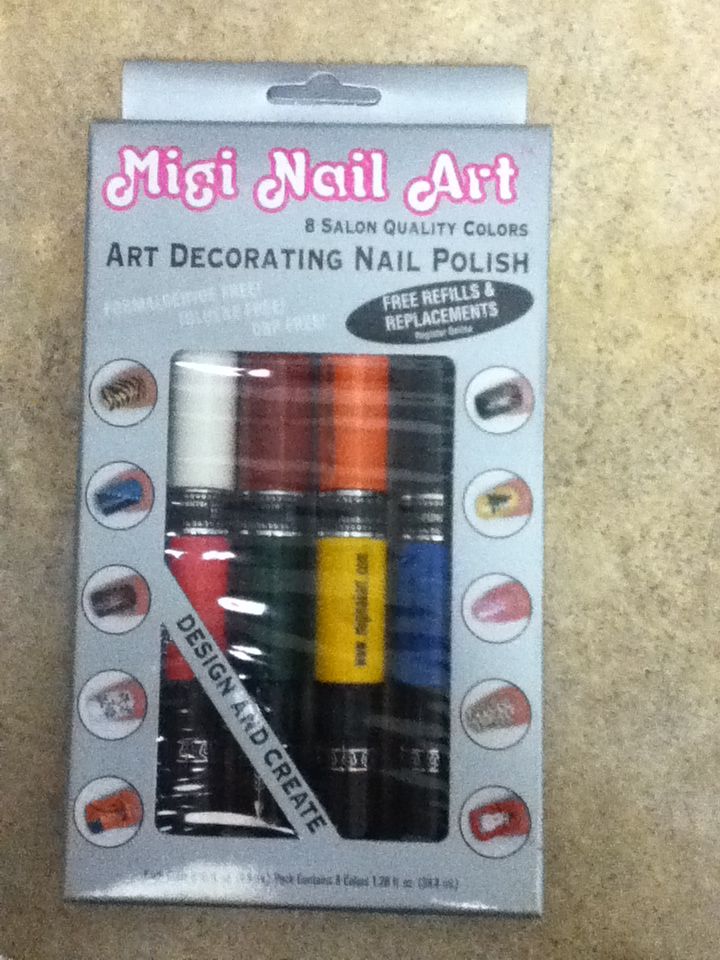 This is the set my Grandma purchased. It is the silver set on the Migi website.
This is the mani I created with the White, Yellow and Green nail polishes from the set. The base is Sinful Colors...Mauve I believe, but I am way to lazy to walk up the stairs right now to find out. lol
Sorry for any tip wear, I did them last night and worked all afternoon.
Take care. Be safe. and let's hope I stick to my resolution to BLOG REGULARLY. lol
~sweetergrrrl